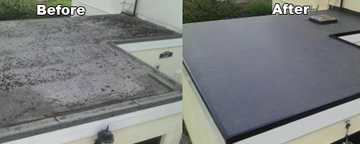 "He carried out the work by negotiating the best possible economical process with the building's neighbours by not using scaffolding, thus accessing along their roof."
-Kenneth,
Worcestershire 05/01/2015
To read more visit the testimonials page.
Professional Roofing Repairs in the Cotswolds & Gloucestershire
Whether there is a small crack in your roof, or your roof is damaged due to harsh weather, Aline Roofing Ltd. are here to help with any Flat Roofing in the Cotswolds. We offer a which? Approved roof repair service . A watertight roof is critical to protect your home against damp, water damage and further deterioration.
Don't delay your flat roofing repair works
Don't overlook slight damage to your roof. A small crack or dent may lead to greater troubles in the future leading to heavy expenses in fixing the problem. To keep your property in good condition, ensure your roof repairs are performed at the earliest opportunity. If you need an emergency roofer, then contact the roofing specialists in Broadway, serving the whole of the Cotswolds.
Your one-stop shop for roofing repairs
Roof repairs of any size
Storm damage repairs
Felt roofing
Firestone EPDM Flat Roof
Re-roofing and replacement
Ridge tiles
Guttering and cleaning
And more
Contact us for expert roofing services
Aline Roofing Ltd. will provide you with expert repair services for all your roofing needs. Call us for free quotes and rates.
Is your roof in need of repairs? Get top-quality roofing solutions from the experts